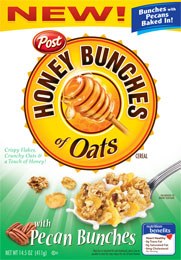 Here is a honey bunches deal you CAN'T resist!
Post cereals are on sale at Albertsons this week for $1.99 per box.
If you go to this website
www.postcereals.com/honeybunchesofoats
you can print a $2 off a box coupon
So . . . . you are making 1 cent!
Albertsons' deal also says that if you buy 4 post cereals, you get a free box of vanilla almond shredded wheat. Post will only let you print ONE coupon per computer, so you need 4 computers to get a heck of a deal.
The pecan box is husband's favorite cereal. I'm stocking up!